As the 32nd African Cup of Nations (AFCON) 2019 competition comes to an end in Cairo Egypt last Friday, the Nigeria senior national football team, the super eagles who won the third-place match against Tunisia in the competition, thus increasing their AFCON medals haul to fifteen (15) has consolidated its position as the most decorated team in the history of the AFCON competition since it started in 1957.
The West African country led the three (3) teams (Egypt, Sudan, and Ethiopia) that participated in the maiden competition in Khartoum, Sudan in 1957 to emerge as the team with the highest number of medals. The Super Eagles have so far won fifteen (15) medals comprising of three (3)Gold, four (4) silver and Eight (8) bronze in Nineteen (19) AFCON appearances and only failed to win a medal in just 4 AFCON competition it participated.
Nigeria was followed by Egypt National team who are the most successful team, having been decorated twelve (12) times (Seven(7) Gold, two(2) Silver and three(3) Bronze) in twenty-four (24) appearances. The Black Star of Ghana were decorated ten (10) times (five(5) Gold, four(4) Silver and one (1) Bronze) in twenty-two (22) appearances. While Cameroon was decorated eight (8) times ( five (5 )Gold, two (2) Silver and one (1) Bronze) in 19 appearances.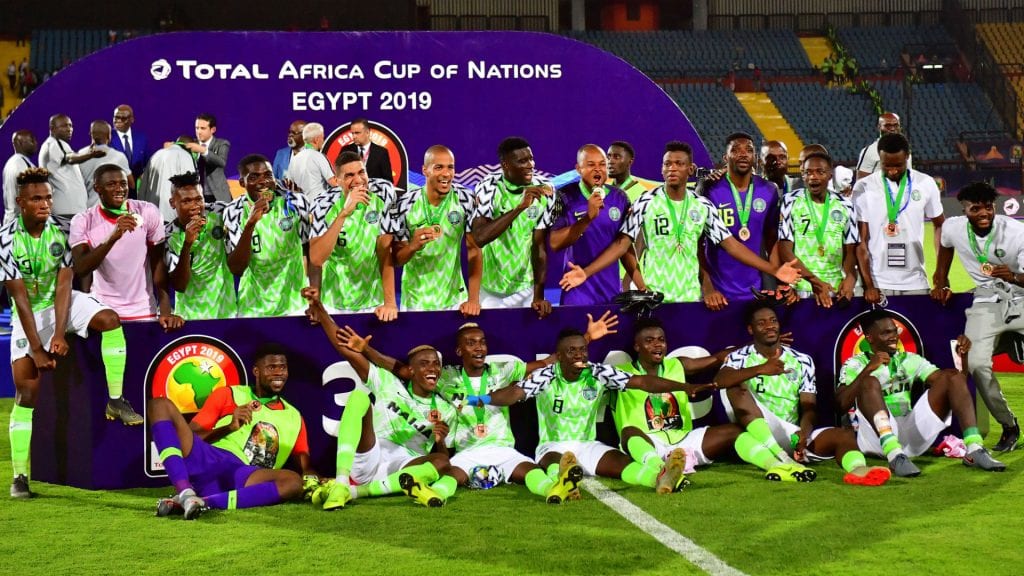 Nigeria business in the AFCON competition started in 1963, where they were knockout at the group stages, the team did not qualify for the African nations cup until 1976 in Ethiopia where it won her first medal which was a bronze. The Nigeria teams which equally hold the record of winning the highest number of bronze medals in AFCON history, amassing a total of Eight (8) Bronze medal, will go home with the sum of $2 million for coming thirds in Egypt 2019.