TSTV Claims They Now have the Right to Broadcast EPL Matches to Nigeria audience.
Telcom Satellites Television popularly called TStv Africa, a wholly-owned Nigerian innovative Pay TV Operator has announced it has been granted the right to broadcast all the 2019/2020 English Premier League EPL matches to Nigeria audience.
In a post on their Facebook page which was accompanied by a video showing the staff of the organization in a joyful mood, the Pay-TV operator said
" This is the mood at TSTV right now. We now have EPL rights for Nigeria. Watch EPL LIVE on Grande Sports 1-4, all in HD. We will also be extending the rights to all Nigeria Terrestrial Channels for FREE. We have won the rights and it is FREE to all Nigerians. Victory at last. TStv Africa, we are now getting you connected"
In a letter emanating from the company and signed by the Head of sales and Marketing Uche Duruji, the Operator claimed the broadcast right covers the entire sub-Sahara African and will run from 2019-2022.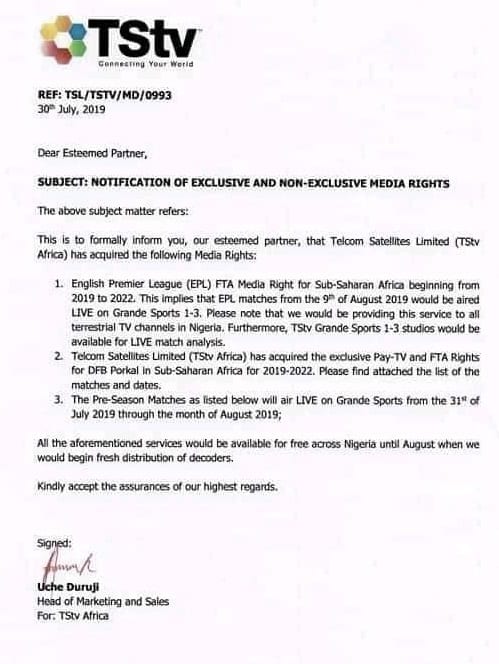 TSTV has been plagued by several Broadcast Right issues ever since they announced their entry into the Nigeria Pay-TV business in 2017.